Linking Your Brand to the Local Offer.™
Linkage Systems is a developer of local advertising creation and campaign management software for manufacturers and franchisors of branded products and services. Our software and services enable a brand owner to:
Reinforce brand presence,
Control brand usage, and
Establish brand preference
in local advertising and promotion.
Traditionally, brand advertising has focused on a long-term, sustained effort to create brand demand and awareness. Successful brands invest heavily to craft, reinforce, and connect the brand to their customers. The brand essence (including message, imagery, and color schemes) is successfully communicated to consumers with robust national and regional campaigns. However, it has always been a challenge to connect the brand essence to local advertising campaigns that drive sales at the local outlets – until now!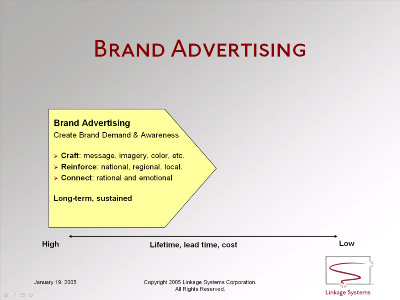 Click to enlarge
The company's flagship product,

, gives the brand owner an unprecedented and cost-effective ability to link the brand directly to the local advertising of its dealers or franchisees. The brand owner provides advertising material that can be readily customized for the local market – including one-to-one marketing – without the pain and high cost of traditional tools and processes and without losing control of the brand.